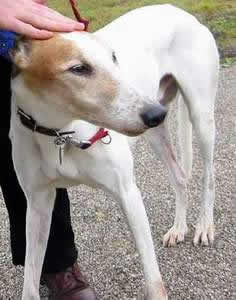 Greyhound
English Greyhound
The fastest of all dog breeds
Patient and careful with children
Lively and very athletic
Group
Hound Group
Breed Description
The Greyhound (or as its also know as English Greyhound), has a strongly build, well defined, powerfully muscled structure. The Greyhound is capable of reaching more than 72 km/hr (45 mph) which makes it the fastest runner of all the dog breeds. It has a long wide head, a long, narrow muzzle with a black pointed nose. The Greyhound has a very strong, powerful jaw, with strong teeth and has small, finely textured ears. With its bright, intelligent looking eyes and its elegant and tall well-developed frame, the Greyhound is an unmistakable breed. Known as the racing dog, the Greyhound has always been praised for its hunting capabilities since it can out pace its target (deer, stag, fox, gazelle, and hare). It uses its speed and its sight to reach its target, whether it be a living animal in the wild, or a mechanical rabbit on a dog race track. The Greyhounds speed comes from its long, solid front legs which are well set under the shoulders and its back legs which are powerful and muscular.
Temperament
The Greyhound is a delightful and relaxed companion but usually they have a tenancy to chase anything that moves. They are very alert and are and extremely well-behaved breed which are great with children. A muzzle may be required when it is not on it's leash at it has an instinct to chase other animals. The Greyhound is an even-tempered breed which is very lively and athletic and it makes a very loving companion.
Height/Weight
Height: Dogs 28-30 inches (71-76 cm), Bitches 27-28 inches (68-71 cm)
Weight: Dogs 65-70 pounds (29-32kg), Bitches 60-65 pounds (27-29 kg)
Health Issues
Greyhounds are typically a healthy and long-lived breed but some have been known to develop esophageal achalasia, Bloat, and osteosarcoma.
Life Expectancy
10 to 12 years.
Exercise
The Greyhound needs regular exercise and plenty of food. This breed should never be too fat or too thin. It's exercise and diet needs to be maintained carefully.
Living Conditions
This breed is best with a fenced yard and is a perfect companion with owners who love to exercise and love to run. They are very sensitive to extreme temperatures and can tolerate the cold as long as they wear a coat.
Grooming
The Greyhound has a short and smooth coat with a firm texture and makes it easy to groom. Use a soft brush and shampoo only when necessary. This breed has minimal shedding.
Breed Origin
The Greyhound is one of the oldest pure breeds in existance.This breed is often seen carved in Egyptian sculptures and engraved in tombs dating back 4, 900 years. The Greyhound originated in the Middle East and was exported to Europe by traders. Today's Greyhound breeds originates from Great Britain.