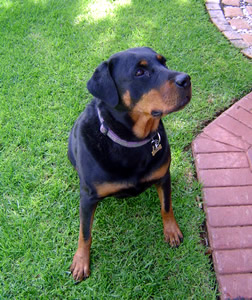 Rottweiler
Rott, Rottie, Rottwieler, Rotty
Solid, compact, powerful guard dog
Fearless, bursting with strength
Friendly towards its human family
Group
Working Group.
Breed Description
The Rottweiler is a solid, powerful dog. With it's broad chest and lean, muscular, compact body, the Rottweiler is an intimidating breed at first glance. The Rottweiler is just above average height, but has a well proportioned, compact build. Despite it's large solid stature, the Rotty is very athletic and can reach very fast speeds with it's rapid trots. The male Rottweiler dogs are much bigger and heavier with a very distinct masculine appearance. The Rottweiler has a broad head with a moderately arched forehead and slightly arched, round, muscular neck. The Rottweiler has a large nose with open nostrils. IT's eyes are dark-brown and are moderately deep-set which gives it a confident expression. The Rottweiler has a dense, medium-length top coat that is mostly black is tan colored markings.
Temperament
The Rottweiler is a self-confident breed of dog which has the natural desire to protect its family and its home. The sometimes domineering dog, the Rottweiler can have a tendency to show its temper. The Rottweiler makes a frightening guard dog, and when trained to attack, it can be dangerous and aggressive. The Rottweiler is easily trained but must have a disciplinary master who can earn its respect. The Rottweiler is very confident of its own strength, and therefore, by nature it is not suspicious or wary. The Rottweiler will react promptly when confronted with potential danger. The Rottweiler portrays itself as very unfriendly, except with its master or family. The Rottweiler will not tolerate excessive handling by strangers.
Height/Weight
Height: 24-27 inches (61-69 cm), Bitches 22-25 inches (56-63 cm)
Weight: Dogs 95-130 pounds (43-59 kg), Bitches 85-115 pounds (38-52 kg)
Health Issues
The Rottweiler is a mostly robust breed, only a small percentage of Rotties experience hip dysplasia. This breed is susceptible to ACL damage due to its trotting style.
Life Expectancy
10 to 12 years.
Exercise
The Rottweiler needs a significant about of exercise and activity.
Living Conditions
The Rottweiler is better suited with experienced firm, dog owners. This breed can live in an apartment/condo sized home provided it has regular exercise, but the Rottweiler is better suited for a medium to large sized yard. This tough and rugged breed is accustomed to a life of outdoor work and can endure any climate or weather.
Grooming
The Rottweiler's coat must be brushed frequently and vigorously.
Breed Origin
The Rottweiler was originally bread in Rottweil Germany in the 1800's as a guard dog. It is widely believed that the Rottweiler descended from the Molossian Mastiff. It is believed that they were bred with shepherd dogs in Rottweil producing the Rottweiler. The first appearance of these dogs in North America were in the early 1930's and they started to appear in Great Britain around 1936.