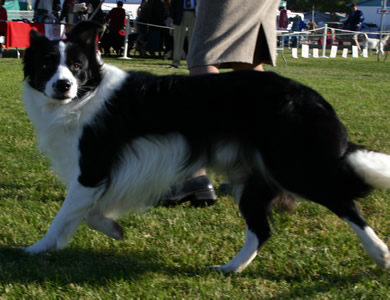 Border Collie
Well-balanced, obedient family dog
Regarded as the most-intelligent dog breed
Instinctive desire to work, with a strong herding ability
Group
Herding Group.
Breed Description
The Border Collie is highly regarded by many as the most intelligent dog breed. The Border Collie is the most popular working sheepdog and is know as a top herding dog. The Border Collie has a fairly broad skull and has very strong jaws and teeth. This breed's eyes are large and wide-set giving them an intelligent expression. The Border Collie has a well proportioned body with a strong and muscular neck giving it an athletic appearance. Their coat is mostly black with and white – their topcoat is dense with a medium texture while their undercoat is short, soft and waterproof.
Temperament
Border Collies are an extremely intelligent breed with an instinctive desire to work. The Border Collie is very obedient and faithful but they are also very energetic and require a lot of attention. Border Collie's are extremely responsive, eager to learn and they have a strong desire to please their owners. Border Collies can be described as a small bundle of energy with a great work ethic and a desire to herd. Border Collie's are good with children, but they have a tendency to drive and gather children to control or herd them into a group. Border Collies also enjoy participating in competition and are recognized as one of the top stars in obedience competition. Borders learn new tasks quickly and they enjoy herding anything that moves.
Height/Weight
Height: Dogs 19-22 inches (48-56 cm), Bitches 18-21 inches (46-53 cm)
Weight: Dogs 30-45 pounds (14-20 kg), Bitches 27-42 pounds (12-19 kg)
Health Issues
Border Collies are a very resilient breed, however, some dogs are prone to hip dysplasia and elbow dysplasia. Border Collies also sometimes suffer from an eye disease called 'Collie Eye Anomaly' (CEA) which can be a mild disease but it is also known to cause blindness.
Life Expectancy
12-15 years.
Exercise
The Border Collie is a very active breed of dog. They require frequent exercise and constant stimulation otherwise their need to work will vent itself in a negative behavior – such as herding other dogs or people. The Border Collie needs to be exercised and worked on a daily basis otherwise they tend to become mischievous.
Living Conditions
The Border Collie can cause havoc in a small apartment/condo as they love participating in a great deal of activity (especially those that involve a great deal of running). Border Collies must be kept busy and active and therefore they are better suited for a larger yard or open area where they can work/herd and run around freely.
Grooming
Border Collies need to be brushed regularly with a firm bristle brush.
Breed Origin
The Border Collie descended from British droving breeds originating on the English and Scottish border. Shepherds in the hilly Scottish Borders have used collies for herding for over 300 years. This breed has been known as the Working Collie, Old-Fashioned Collie, Farm Collie, and English Collie but it wasn't until 1915 that James Reid (Secretary of the International Sheepdog Society in Great Britain), first called the dog a Border Collie.