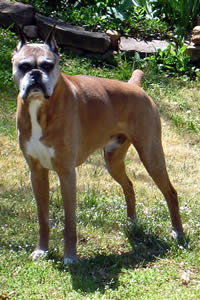 Boxer
German Boxer, Deutscher Boxer
Loyal, courageous, affectionate with expressive features
Powerfully built, handsome, athletic dog
Muscular intimidating guard dog
Group
Working Group
Breed Description
The Boxer is a powerful, happy, energetic and muscular breed of dog. It's fun-loving and gentle with children and is an ideal family dog. The Boxer has fast reactions and a very puppy-like behavior which means it can create unintentional havoc. With a muscular and very intimidating appearance, this breed of dog makes the perfect guard dog. The Boxer has a very muscular body with no fat. It's head is well proportioned and the top is slightly arched and has deep wrinkles. It's ears are thin and wide set. It's eyes are dark brown and not too deep set, giving it an intelligent, alert expression.
Temperament
The Boxer is lively, playful and fun with family and friends, but can be very wary of strangers. The Boxer is fearless and must be dealt with and trained firmly. A devoted dog who's instinct is to be watchful and protect it's owner. The Boxer is also very energetic (even at an older age) and they are great with children.
Height/Weight
Height: Dogs 22-25 inches (56-63 cm), Bitches 21-24 inches (53-61 cm)
Weight: Dog 60-70 pounds (27-32 kg), Bitches 53-65 pounds (24-29 kg)
Health Issues
Boxer's are susceptible to tumors, eye problems, and heart disease.
Life Expectancy
8 to 12 years.
Exercise
The Boxer is a good choice for athletic families as it needs daily exercise. It's an easily excitable breed, which makes exercising this breed of dog a breeze.
Living Conditions
The fiery, athletic dog, is the most active of dog breeds and as such, requires a sports-minded owner who enjoys long walks and will share the dog's love of play. This breed is perfect for families, and not well suited for individual people who enjoy peace and quiet. Boxers can live in apartments, but because of their boisterous attitude and size, they are better suited for a home with a yard.
Grooming
The Boxer has a short, shiny, hard haired coat which is very flat on the body which makes grooming a breeze – brush with a firm bristle brush. Boxers are very clean and groom themselves like cats so you should only bathe them when necessary. This breed is an average shedder.
Breed Origin
The Bullenbeiszer and the Barenbeiszer are the Boxer's two ancestors. They lived in Germany and were originally trained to hunt bear and boar, and then they were used as cattle dogs. These breeds closely resembled the Mastiff. Around 1850, German breeders crossed the Bullenbeiszer with the Bulldog giving us the present-day Boxer breed.