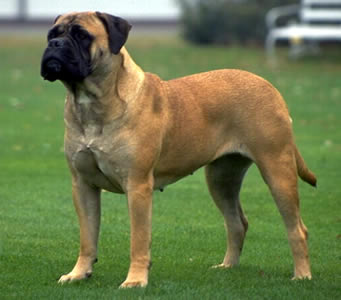 Bullmastiff
An affectionate and faithful family companion
Large dog with a large appetite
High-spirited and strong
Group
Working Breed.
Breed Description
The Bullmastiff is a spirited and intelligent breed, but most wouldn't have guessed that due to it's despondent expression which is enhanced by a black mask around its dark eyes. The Bullmastiff has a powerful, symmetrical build with a large square head. It's muzzle is short and it's face becomes wrinkled when alert. It's body is compact and well-balanced with it's wide and deep chest and powerful legs, the Bullmastiff embodies strength. It has a muscular neck, and a short back that is slightly arched. It has a tan colored, short, dense, weather-resistant coat.
Temperament
Despite it's imposing size and weight, the Bullmastiff can be an affectionate and calm family dog. The Bullmastiff is loyal, intelligent and is extremely patient with children. If left alone for long periods of time the Bullmastiff will become bored and spend most of its time sleeping. The Bullmastiff is confident, very alert and can be weary of strangers. The Bullmastiff is a stubborn breed and is resistant to obedience training.
Height/Weight
Height: Dogs 25-27 inches (63-69 cm), Bitches 24-26 inches (61-66 cm)
Weight: Dogs 110-133 pounds (50-60 kg), Bitches 100-120 pounds (45-54 kg)
Health Issues
Bullmastiff's are prone to hip dysplasia, gastric torsion and cancer.
Life Expectancy
10 to 12 years.
Exercise
The Bullmastiff requires a moderate amount of exercise, but not too much to tire them out completely.
Living Conditions
Bullmastiff's are sensitive to extreme temperatures. They can live in apartments/condos as long as they get enough exercise and they do well with at least a small sized yard – Bullmastiff's tend to be lazy when they are inactive.
Grooming
The Bullmastiff has a short-haired coat which is very easy to groom, just comb and brush with a firm bristle 15 minutes everyday. This breed hardly sheds and should only be shampooed when necessary.
Breed Origin
The Bullmastiff was developed in England around the late 1800's to fulfill a specific need for an aggressive and powerful guard dog. This breed was used as a gamekeeper's assistant, and its role was to chase and immobilize poachers on estates. The Bullmastiff was created by crossing two breeds in exact proportions: 60 percent Mastiff and 40 percent bulldog.