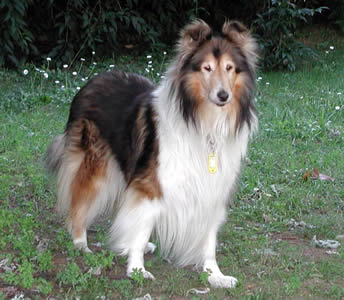 Collie
Scottish Collie
Loyal, reliable and alert watchdog
High-maintenance with good looks
Famously known as 'Lassie'
Group
Herding Group
Breed Description
There are two varieties of the Collie – the longhaired Rough Collie and the less popular shorthaired Smooth Collie. The Collie is a great family dog with a flat head, well-rounded muzzle and a black nose. It's ears are small and erect with the tip folded forward and it's eyes are dark brown, almond shaped and slightly oblique. The Collie has a long body with a deep chest and a firm back. The Rough Collie's coat is very dense, abundant, long and stiff. The undercoat is soft, thick and dense. The Smooth Collie has a short, and dense abundant undercoat. The breed is unmistakable with it's sable and white, tri-colored, blue merle coat that was made famously popular by Hollywood in the 1940's in a film called 'Lassie Come Home'.
Temperament
Responsive, dignified and responsible with children. The Collie is often shy but is highly intelligent and alert. Very devoted to family and watchful, they don't like to be left alone and are prone to barking. While excellent with children, the Collie has a tendency to herd. The Collie has a sweet, protective personality and crave human companionship (especially their owners). While they are a very friendly breed, they can become suspicious of strangers or people they do not like.
Height/Weight
Height: Dogs 24-26 inches (61-66 cm), Bitches 22-24 inches (56-61 cm)
Weight: Dogs 60-75 pounds (27-34 kg), Bitches 50-65 pounds (23-29 kg)
Health Issues
Generally Collie's are healthy dogs but they have been known to have eye problems.
Life Expectancy
11 to 14 years.
Exercise
The Collie needs a lot of exercise and enjoys to run around freely. This breed of dog is perfect for athletic people who will keep the dog fit with long walks or jogs next to a bicyclist.
Living Conditions
The Collie can live in an apartment as longs as it exercises regularly, but it is known to bark if it doesn't have human companionship. Ideally, they would need a medium sized yard to run around in.
Grooming
Collies have a long dense coat, which mats easily, so it requires daily brushing. The Collie is a seasonal shedder.
Breed Origin
The Collie's ancestors were an ancient breed of dog native to the British Isles. For centuries Collie's were very little known outside the Scottish Lowlands where they were used to guard flocks of sheep. Around 1860, the Collie caught the attention of Queen Victoria so she brought back several Rough Collies with her to Windsor Castle. Today the Collie has become one of the most popular breeds of dogs, with the help of an enormously successful Hollywood film called 'Lassie Come Home'.