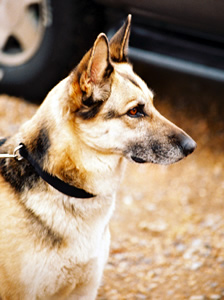 German Shepherd Dog
Alsatian, Deutscher Schäferhund, Schäferhund
Intelligent, multi-talented dog
Loyal, dependable, has a strong protective instinct
Versatile and tireless working dog
Group
Herding Group
Breed Description
The German Shepherd Dog is one of the most popular breeds in the world. The German Shepherd is a large, robust, strong dog who is all muscle. An intelligent multi-talented breed with a strong protective instinct. The German Shepherd's head is well-proportioned to it's body with a strong muzzle and firm lips. It's eyes are slightly slanted, dark brown and are almond shaped. With it's solid, well-muscled frame, it's erect, high-set ears and its highly intelligent alert expression, the German Shepherd is a powerful looking breed. The German Shepherd Dog's tail is very bushy-haired, it's coat is straight with hard hairs and it has a very thick undercoat.
Temperament
The German Shepherd Dog is a loyal, dependable companion. This breed is faithful, responsive and obedient. Excellent with children, this breed is self-confident, watchful and always ready to defend. The German Shepherd Dog is easy to train due to it's intelligence and highly developed senses. This breed is often used as a specialists dog in a wide range of roles such as: drug sniffing dog, life saver, guard dog, police dog, rescue dog, or dog to lead the blind. Their highly developed sense of smell and their tough, weather resistant coats make the German Shepherd Dog the most effective and rapid rescuers of victims of natural disasters such as earthquakes, floods, avalanches, explosions, etc. This versatile breed can be trained for practically anything and it fits perfectly into family life.
Height/Weight
Height: Dogs 24-26 inches (60-65 cm), Bitches 22-24 inches (55-60 cm)
Weight: Dogs 77-85 pounds (35-40 kg), Bitches 77-85 pounds (35-40 kg)
Health Issues
The German Shepherd Dog may suffer from eczema, inflammation of the cornea (keratitis), and malformation of the hip joint (hip dysplasia).
Life Expectancy
10 to 14 years.
Exercise
A very active breed, the German Shepherd Dog needs to have regular exercise.
Living Conditions
The German Shepherd Dog is okay for an apartment/condo size home as long as its desire for a lot of exercise is met. This breed does best with a medium to larger sized yard where it can run, play and exercise as needed. The German Shepherd Dog loves to be trained and loves to be kept busy at all times.
Grooming
The German Shepherd Dog needs daily brushing due to the constant shedding but it only needs to be bathed one or two times a year.
Breed Origin
The German Shepherd dog was bred in Germany in the 1880's by a German cavalry officer named Max von Stephanitz. Originally the German Shepherd Dog was used from herding, guarding and farmwork but during World War I, these dogs were used as army dogs, whose versatility proved useful to the soldiers. During the late 1920's, many dogs were imported and smuggled into Britain and the Commonwealth. Until the 1970's, this breed was called the Alsatian, or Alsatian Wolf Dog.