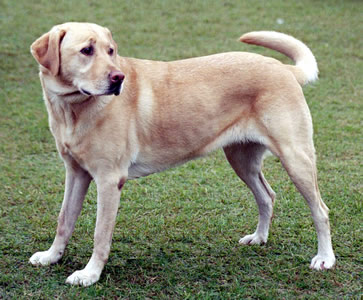 Labrador Retriever
Lab, Chocolate Labrador Retriever, Black Labrador Retriever, Yellow Labrador Retriever
Energetic and playful family friend
Good-tempered and eager to please
Excellent retriever who loves to swim
Group
Sporting Group.
Breed Description
Labrador Retriever's are respected and loved world-wide for their responsibilities as guide dogs for the blind, police dogs (narcotics dogs), and war dogs. Lab's are sturdy, courageous and hard-working. Labrador Retriever's are also known for being great swimmers and are even fearless of icy-cold waters. Lab's are very active, strongly built dogs that have a kind and intelligent expression. They have a broad head with powerful jaws. Their nose is wide and they have medium-sized brown/hazel-brown eyes. With a well-balanced, built, deep-chest, the Labrador Retriever is a powerful looking dog. The coat of a Labrador Retriever can be yellow, black or chocolate. The topcoat is short, dense and feels fairly hard, while the undercoat is soft and weather-proof. The Labrador Retriever's tail is covered in thick fur.
Temperament
The Labrador Retriever is a kind, fun and devoted companion who is extremely gentle with children and other family pets. Labrador Retrievers are easy to train as they are obedient and intelligent. They make a perfect watch dog since they act quickly and fearlessly in an emergency.
Height/Weight
Height: Dogs 22-24 inches (56-61 cm), Bitches 21-23 inches (53-58 cm)
Weight: Dogs 60-75 pounds (27-34 kg), Bitches 55-70 pounds (25-32 kg)
Health Issues
Labrador Retriever's are generally a healthy breed of dog, but some dogs are known to suffer from hip dysplasia, elbow dysplasia and cataracts.
Life Expectancy
12-14 years.
Exercise
Labrador Retriever's are a very active breed. They need to have regular exercise or play time and must have a controlled diet as they are prone to weight gain. Regular exercise is easy if there is a pool or lake around as a Lab loves the water and was practically born to swim.
Living Conditions
Labrador Retriever's are a great choice for families and single people who are active and like to spend quality time with their dog. Lab's do not mind being in an apartment but they will still need regular exercise. Retriever's are perfect with at least a medium sized yard to run around in.
Grooming
The Labrador Retriever has a short and dense coat that should be brushed regularly with a firm bristle brush. Lab's are average shedders and should bathed only when necessary.
Breed Origin
Labrador Retriever's were developed in Britain around the 1800's. With a love for the water, the Labrador Retriever was also know as the "Small Water Dog" or as the "St. John's Dog" as it was a valued crew member of Newfoundland fishing boats. The Labrador Retriever's job was to jump overboard (into the icy-waters), gather the ends of the fish-laden nets in their mouths and swim to shore where the members of the fishing team would empty the nets and gather the fish. Later on in the 1800's, the breed was imported to England by ships coming from Labrador.